COMMERCIAL AIR DUCT CLEANING SEATTLE WASHINGTON
Commercial Air Duct Cleaning WA
Dirty air ducts affect the performance of your employees and your equipment. Keeping your air ducts clean is important to maintaining healthy indoor air quality. The nonstop, daily use of your commercial cooling and heating system causes build-up over time of particulate matter and contaminants, that are circulated 5-7 times per day through your work spaces via the heating and air conditioning system. Add humidity to this mix, and now its spreading mold, putting your workers at even greater risk of disease and absenteeism. Dirty air ducts in Seattle also make it harder for your computers and machines to work effectively by putting stress on the heating and air conditioning system in WA.
This impacts not only equipment performance and longevity, but your budget. The result can be some higher costs for energy use and a potential need for equipment replacement! Save Energy, Reduce Your Costs. Keeping your air ducts clean allows your Heating and air conditioning system to run more efficiently. Usually, clean air ducts can lessen your energy consumption by about 30% - helping you to look good at the next spending budget meeting! Schedule Air Duct Cleaning with Five Star Mechanical, we use professional air cleaning specialists to oversee specialized cleaning of ductwork.
It's recommended to have your air ducts inspected in WA and cleaned minimally every 3 to five years. Five Star Mechanical may help you with all your indoor air quality remediation and prevention needs. The National Air Duct Cleaners Association recommends commercial ductwork be inspected and cleaned each 3-five years to maintain good air flow and the optimal performance of HVAC systems.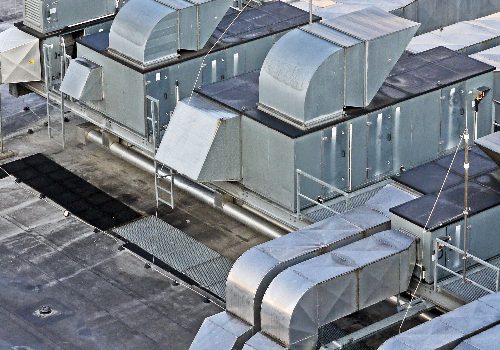 Five Star Mechanical Provides Commercial Air Duct Cleaning in the following County's:
Commercial Air Duct Cleaning Clallam County, Commercial Duct Work Clark County, WA, Commercial Air Duct Cleaning Cowlitz County, WA, Commercial Duct Cleaning Grays Harbor County, WA, Daikin Island County, WA, Daikin VRV Pro Jefferson County, WA, Daikin VRV King County, WA, Ductless Heat Pumps Kitsap Cunty, WA, Duct Cleaning Lewis County, WA
Direct Fired Heating Mason County, WA, Commercial HVAC Contractor Pierce County, HVAC Skagit County, HVAC Snohomish County, WA, HVAC Thurston County WA, and Whatcom County WA
Cities and Commercial Heating And Cooling Services
Daikin Port Angeles, Heating Repair Sequim, WA, Ductless Heat Pumps Battle Ground, Heat Pump Repair Chiller Repair Camas, HVAC Vancouver, WA, Heat Kelso, Heat Pumps Longview, Heater Woodland, WA, Cooling Aberdeen, WA, Heating And Cooling Oak Harbor, WA, AC Installation Port Townsend, WA, AC Repair Algona, AC Repair Auburn, AC Repair Bellevue, HVAC Repair Bothell, HVAC Des Moines, HVAC Enumclaw, HVAC Covington, HVAC Issaquah, Commercial HVAC Kent, Heat Kirkland, AC Installation Lake Forest Park, HVAC Mercer Island, HVAC Maple Valley, HVAC North Bend, HVAC Redmond, AC Repair Renton, Ice Machine Repair Seattle, Ice Machine Repair Snoqualmie, AC Tukwila, Heater Bremerton, HVAC Port Orchard, HVAC Poulsbo, HVAC Bainbridge Island, WA , HVAC Centralia, HVAC Chehalis, Ice Machine Repair Federal Way, HVAC SeaTac, HVAC Burien, HVAC Woodinville, HVAC Newcastle, Heating Repair Shoreline, Heater Repair Kenmore, HVAC Sammamish,
HVAC Bonney Lake, HVAC Buckley, HVAC Dupont, HVAC Fife, HVAC Gig Harbor, HVAC Milton, HVAC Puyallup, HVAC Sumner, HVAC Tacoma, University Place, Edgewood, Lakewood, Pacific, Auburn, Anacortes, Burlington, Mount Vernon, Sedro Woolley, Arlington, Edmonds, Everett, Lake Stevens, Lynnwood, Marysville, Monroe, Mountlake Terrace, Mukilteo, Snohomish City, Stanwood, Mill Creek, Bothell, AC Repair Snohomish, AC Repair Lacey, AC Repair Olympia, AC Repair Tumwater, HVAC Yelm
Call us today to discuss the unique HVAC needs of your business or property