HVAC PREVENTIVE MAINTENANCE SEATTLE WASHINGTON
SEATTLE WASHINGTON'S WA'S LEADING NAME IN ENERGY EFFICIENT HVAC AC
Through decades of experience in the industrial and commercial HVAC industry, Five Star Mechanical has maintained long-term partnerships with a wide variety of clients throughout the Seattle metropolitan area and Pacific Northwest. As energy costs continue to rise, we understand the importance of cost-effective, sustainable HVAC solutions for your business. Our knowledgeable team is committed to finding the solution that's right for your business and budget.
The Five Star Difference
As a leader in the HVAC industry, Five Star Mechanical is committed to the following:
Integrity and equitability
Providing professional services that exceed our customers' expectations.
Maintaining a positive and safe work environment for our employees and customers.
Providing innovative ways to educate our employees and our customers.
Working for the wellbeing of our community and natural environment.
Energy Efficient Solutions for HVAC Design, Tenant Improvement, New Construction, Equipment Replacement
At Five Star Mechanical, it's our goal to give you better control over managing your facility's energy consumption, ensure occupant comfort, and provide optimal indoor air quality. Whether it is new construction, a tenant improvement, or the replacement of existing equipment, we can custom design and install a state-of-the-art HVAC system that is tailored to your budget and facility's needs. If it is time to upgrade or replace your property's HVAC system, we can explore options with you, make recommendations based on our extensive knowledge of the latest technology, and perform the installation.
Control Systems & RTU Tune Up
We can service your existing BAS (Building Automation System) control system or design and install a new one that better suits your needs. Advancements in technology have made these new systems easier to install, operate, and maintain, improving the operation of your facility and reducing your energy consumption. United States Department of Energy and ASHRAE both agree that "retrofit commissioning" of an HVAC roof top unit (RTU) is possibly the most cost-effective expenditure a business owner can make to save money and lower energy demand. An RTU tune up from Five Star Mechanical will get your equipment as close to factory specs as possible and lower your energy costs.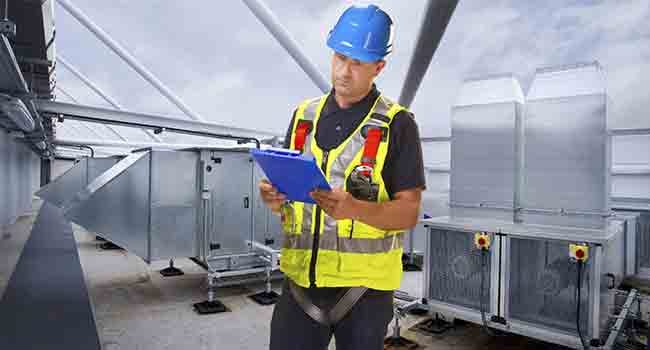 Commercial HVAC Control Systems in Western WA
Let us service your existing BAS (Building Automation System) control system or design and install a new one that better suits your needs. Advancements in technology have yielded new control systems that allow you to more precisely manage your energy consumption. In addition, these new systems are easier to install, operate, and maintain.
Call us to discuss how a new BAS control system can improve the operation of your business or facility and reduce your energy consumption.
Five Star's Bes-Tech Digi-RTU Controller
Advanced, next generation controls will be a standard element of all new RTUs, but today there are various ways to access these new technologies. Five Star is pleased to offer Bes-Tech's Digi-RTU controller. Radical savings is the best way to describe what to expect.
Preventive Maintenance Heating and air conditioning Service Customized to Your Needs
Commercial Heating and air conditioning Service with a Facilities Management Focus. Five Star Mechanical provides custom Heating and air conditioning preventative maintenance service for distinguished customers within many of Washing States prestigious buildings and institutions.
Our goal is to ensure efficient and continued operations of all your Heating and air conditioning systems, including server room air conditioners, for the ongoing comfort for your tenants and uninterrupted operation of mission critical systems. Our hands-on approach allows us to be readily accessible whenever you need us most and ensures your peace of mind.
How Five Star Mechanical Benefits You:
TRANSITION TEAM
We understand the difficulty of changing maintenance vendors. During this process, our team familiarizes themselves with your facility's entire Heating and air conditioning system. This ensures consistent, cost-effective service at every point of contact thereafter while integrating your site into our Service Division.
DEDICATED MAINTENANCE STAFF
Security is an essential facilities concern. Five Star provides you with a dedicated team of technicians who'll develop an intimate understanding of your system and supply you with the personalized technical assistance and info you require.
QUALITY CONTROL
We conduct inspections to enhance and improve our valued clients comfort experience. In addition to our regular maintenance inspections, we review sites annually from a different point of view to ensure that we're providing the best possible service both today and tomorrow.
SERVICE TRACKING & REPORTING
To enable you to be as hands-on as we're, we supply you with access to a secure web-based logging system to track your Heating and air conditioning service and maintenance history, making it easy for you to generate reports when required.
OWNER INVOLVEMENT
Whenever you need an immediate resolution to a problem, a Five Star Expert is available 24/7 to assist you.
Need more info? Telephone Five Star Mechanical at: (253) 852-8284