INDOOR AIR QUALITY TESTING SEATTLE
Seattle Washington's Fully-Integrated Commercial Heating and Air Conditioning Indoor Air Quality Solutions Resource
The expert technical assistance you want to effectively manage the complexities of indoor air quality testing. Indoor air quality testing is a growing requirement among building owners and managers due to poor air quality and its effect on health and comfort of building occupants. Recent studies conclude that proper space humidity and temperature conditions coupled with good indoor air quality decrease sickness, sick days and increase worker productivity and pleasure at work. Indoor air quality testing, improvement and maintenance is therefore not only great for your tenants, but good for business too.
Industrial Heating and Air Conditioning Indoor Air Quality Solutions Resource
Five Star Mechanical has become the Washington states premiere supplier of high construction indoor air quality testing and remediation, such as comprehensive business Heating and air conditioning system investigation, maintenance, and modification. With an in-house group of Certified Indoor Environmental Consultants (CIEC) and ASCS licensed air cleaning specialists as well as our vast Heating and air conditioning service technology experience, Five Star Mechanical gives you the specialist technical assistance you want to effectively manage the complexities of indoor air quality within your commercial building(s).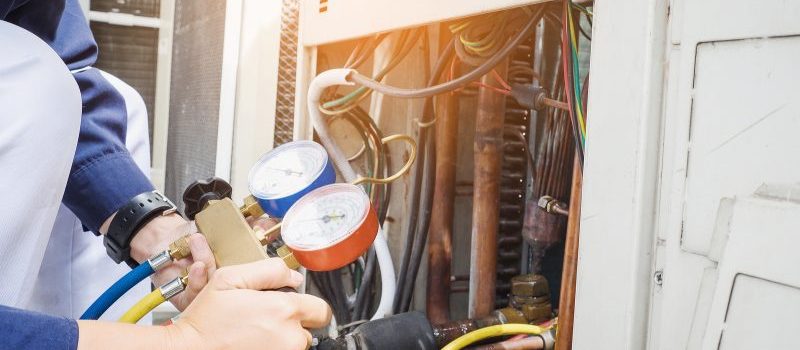 A few of the indoor air quality services include:
INDOOR AIR QUALITY ASSESSMENTS/INSPECTIONS WA
Our licensed CIEC professional conducts assessments to identify and examine indoor air quality concerns. This might be achieved as an annual audit, in accord with the needs, or as part of a custom preventative care program.
DUCT CLEANING WA
Five Star uses only Licensed Air Cleaning Specialist to supervise specialized cleaning of ductwork and coils, as well as remediation of mold, odors along with other indoor air quality issues.
CUSTOMIZED SOLUTIONS
Five Star provides customized indoor air quality solutions, which might include Enhanced Filtration, Carbon Dioxide Control / Delivery Systems, Ultraviolet Solutions, Bi-Polar Ionization Systems, and improved Ventilation Strategies.
INDOOR AIR QUALITY PROFESSIONALS
Five Star's industry-leading group of indoor air quality professionals can execute an intensive analysis of your Heating and air conditioning system to handle, improve or alter your ventilation and indoor air quality.
County's Five Star Mechanical provides HVAC Service:
HVAC Clallam County, Commercial HVAC Clark County, WA, Commercial Heating Cowlitz County, WA, Commercial AC Repair Grays Harbor County, WA, HVAC Island County, WA, HVAC Jefferson County, WA, HVAC King County, WA, HVAC Kitsap Cunty, WA, HVAC Lewis County, WA
Commercial HVAC Contractor Mason County, WA, Commercial HVAC Contractor Pierce County, HVAC Skagit County, HVAC Snohomish County, WA, HVAC Thurston County WA, and Whatcom County WA,
Cities and Commercial Heating and Cooling Services
AC Repair Port Angeles, Heating Repair Sequim, WA, Heater Repair Battle Ground, Heat Pump Repair Chiller Repair Camas, HVAC Vancouver, WA, Heat Kelso, Heat Pumps Longview, Heater Woodland, WA, Cooling Aberdeen, WA, Heating And Cooling Oak Harbor, WA, AC Installation Port Townsend, WA, AC Repair Algona, AC Repair Auburn, AC Repair Bellevue, HVAC Repair Bothell, HVAC Des Moines, HVAC Enumclaw, HVAC Covington, HVAC Issaquah, Commercial HVAC Kent, Heat Kirkland, AC Installation Lake Forest Park, HVAC Mercer Island, HVAC Maple Valley, HVAC North Bend, HVAC Redmond, AC Repair Renton, Ice Machine Repair Seattle, Ice Machine Repair Snoqualmie, AC Tukwila, Heater Bremerton, HVAC Port Orchard, HVAC Poulsbo, HVAC Bainbridge Island, WA , HVAC Centralia, HVAC Chehalis, ice Machine Repair Federal Way, HVAC SeaTac, HVAC Burien, HVAC Woodinville, HVAC New Castle, Heating Repair Shoreline, Heater Repair Kenmore, HVAC Sammamish,
HVAC Bonney Lake, HVAC Buckley, HVAC Dupont, HVAC Fife, HVAC Gig Harbor, HVAC Milton, HVAC Puyallup, HVAC Sumner, HVAC Tacoma, University Place, Edgewood, Lakewood, Pacific, Auburn, Anacortes, Burlington, Mount Vernon, Sedro Woolley, Arlington, Edmonds, Everett, Lake Stevens, Lynnwood, Marysville, Monroe, Mountan Terrace, Mukilteo, Snohomish City, Stanwood, Mill Creek, Bothell, AC Repair Snohomish, AC Repair Lacey, AC Repair Olympia, AC Repair Tumwater, HVAC Yelm
Call us today to discuss the unique HVAC needs of your business or property.