Many businesses have closed down or have switched to remote services only due to the spread of Covid 19. But your system could still break down in the midst of social distancing. And, when you're home all day, it's important that you are safe and comfortable. Fortunately, Five Star Mechanical is available at your convenience to service your needs.
We are considered an "essential business" by the standards of the shelter in place order. Heating and cooling services are a vital piece in the puzzle of staying safe and comfortable this season. Five Star Mechanical will remain open, with our team of technicians to help you with your service needs and installations.
Safety Precautions from Five Star Mechanical
The health and safety of all of our staff and customers is important to us at Five Star Mechanical. That's why in these times, we're taking safety precautions to ensure that we can help you with your heating and cooling issues without undermining the need for social distancing. Every HVAC technician that shows up at your home or office will be equipped with the following:
Disinfecting spray
Disposable latex gloves
Face masks
Shoe covers
We sincerely hope that you and your entire household, as well as family and friends, stay safe and healthy during this time.
Now normal hot summers, air conditioning is a must, especially in commercial buildings where employees and clients must find comfort for a large portion of their day. A humid work environment results in a lack of productivity in your employees, leaving your business performing at less than it is capable of. Your business should not suffer simply because your AC unit needs repairs.
At Five Star Mechanical, we respect the urgency that comes with having a broken air conditioner. We are often able to set up same-day appointments to repair the problem as soon as possible. If your AC unit will not start or it makes excessive noises when it does, our team is here when you need us to repair your unit quickly while being un-intrusive to your business.
You can be confident in our skills as air conditioning technicians. We strive for quality AC repairs for each of our customers, as well as routine maintenance to their units. Remember, neglecting symptoms of a poorly functioning air conditioner can lead to expensive compressor replacement or a failing AC unit.
When your air conditioner is on its last leg, do not sit in discomfort. When you need to install a new AC unit, let the team at Five Star Mechanical help. We are technically trained to find and install the perfect HVAC system for your company.
We know there's a lot of AC companies in the area to choose from, which is why we strive to be different from the rest. Not only do we offer top-notch air conditioning service at competitive pricing, we are dedicated to providing our customers with respectful, honest, dependable and reliable service for any air conditioning issue you have. We are one of the most highly-regarded companies in the area, and for good reason.
The type of commercial or industrial property you have will determine your AC's needs. We offer a wide variety of commercial air conditioning units to fit all types and sizes of properties. We know that each property has different square footage, height, and number of occupants, and therefore may need slightly different attention than another similar building might.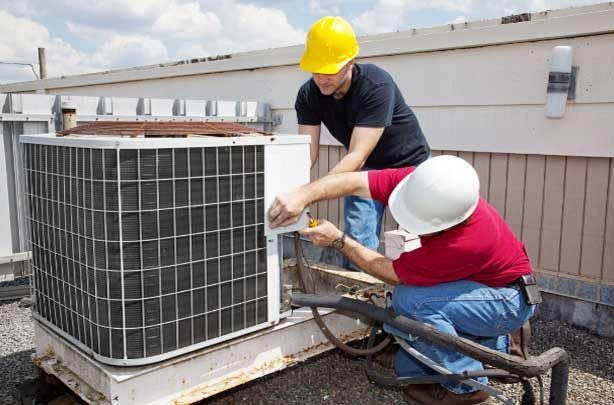 Our technicians are ready to do an inspection on your property and install the right AC for your building's specific requirements. We strive to make the smartest and most energy-efficient recommendations for each of our clients. Our suggestions are tailored to work to fit within your budget and make everyone happy with high-quality units at affordable prices.
All of our HVAC technicians are highly educated and trained in their respective fields -- we keep our staff at the top of their game in the AC industry so that we are able to out-perform and out-service the rest.
We pride ourselves in providing our clients with fast, efficient service. As a property owner, we understand the importance of keeping your clients, occupants, and customers happy. We'll get it repaired correctly, and all of our repairs come with a one year warranty so you can feel confident your AC system will continue to operate for some time to come.
We consider the size and zoning of your building when deciding on an air conditioner that provides enough output to meet your needs. We are also familiar with energy-efficient options to help you save even more.
To keep your AC unit working correctly, and to mitigate possibilities of future issues, you should call us once a year for routine maintenance on your HVAC system
With financing options from multiple sources, installing a new AC system is easier than ever. Let us help prolong the life of your air conditioning unit and protect the comfort of your home.
We guarantee our Five Star Mechanical Experience each and every time from our service techs, service managers and engineers. Save time and money and let us do all the work for you.
We are all committed to seeing every project through from start to finish where communication and commitment to the highest standard is a relentless pursuit. The result is the finest in workmanship and the satisfaction of knowing that the Five Star Mechanical Experience is something real and tangible.